How can I know which frequency table is in my MINI-EXPERT-T?
VISIBLE IN THE IMEDIS EXPERT SOFTWARE
MINI-EXPERT-T of 3rd generation
MINI-EXPERT-T of 2nd generation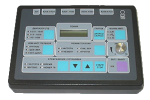 There is no option for connection to a computer!
Please also consider that the manufacturer specifies a recurrent safety checkup inspection of the device and accessories every 2 years!
Please get in touch with us to make an appointment for update of your device!